Le Bureau's resident astrologer, Francesca Oddie, opens up about building a business based on a passion, the complexities of the astrological chart, and why she is playing her cards close to her chest.
Hi Fran. Can you tell us what you do, and how your business came to be?
I'm an astrologer and my business was born organically'. I was always interested in astrology but have been obsessed for over 10 years.
I was at a property networking event in 2014 when I met Suneet, a 'holistic interior designer,' who combined interior design with being a clairvoyant.  Hammered on one glass of wine, I asked for an impromptu reading.
She proceeded to tell me my name and describe the appearance of my then boyfriend, my best friend, their family members, my family members, cars, health issues, conversations they had had… my mind was blown.
I sat there sweating and trembling with tears running down my face, asking how she knew.
I was reliably informed that she was talking to my spirit guide. I didn't sleep with the lights off for a few months and began to resent feeling watched in the shower…
Suneet told me I would be an astrologer. I thought it was too mad and spent six months wrestling with the idea before many other chance encounters and a few supportive friends encouraged me to find a course.
I gave up 90% of my social life and have dedicated myself to a life of books, charts and Instagram.
 >>Like this? Read Spotlight On…Yogi2me
Describe an average day.
There's not really an average day; I'm too much of a freedom loving Sagittarius.
Some days I'll see clients and talk through their charts; other days, I write and plan content.
I might be at a festival doing live readings or at a location delivering a talk.  More recently, I've started created chart prints to sell and I write simple astrological explanations of the Sun, Moon and Rising Sign to go with them.
This is all a work in progress and always changing, which is no bad thing!
What's the best part of your job?
People pay money to tell me all about their amazing, fascinating lives: their truths, dreams and desires. 
I get to look at planets and transits, make some sense of their story and suggest what they could do to feel a little more at ease, a little more focused, a little more themselves.
It's always down to us, as the answers come from within; the role of the astrologer is to remind people of what they know deep down but may have forgotten in the busy chaos that is life.
What are the biggest challenges you face?
I think the biggest challenge is when people have a skewed vision of what astrology is – despite me boring people all day long about the complexity of the chart – or about the fact that astrology is more psychological and concerns the hidden complexes and functions of your psyche.
I still get people asking: "What sign should I be with?"  There is the very rare and occasional client who thinks I'm a fortune teller and isn't interested in dialogue. They want to sit back, fold their arms and have me announce that they will meet a handsome stranger in February…that's really annoying.
What's the one thing you wish you'd known before embarking on your business?
Don't share what you know with everyone. Play your cards close to your chest.  I was too open with my ideas in the early days – never again.
What drew you to a co working office?
When I found Le Bureau I told the then office manager, Louise, that I couldn't work one more day at home because I was going crazy and was going to throw myself out of the window.
Not at all dramatic!  I love people (most of the time…)
What's next for you and your business?
Top secret!  More of the above, plus lots more ideas to expand upon.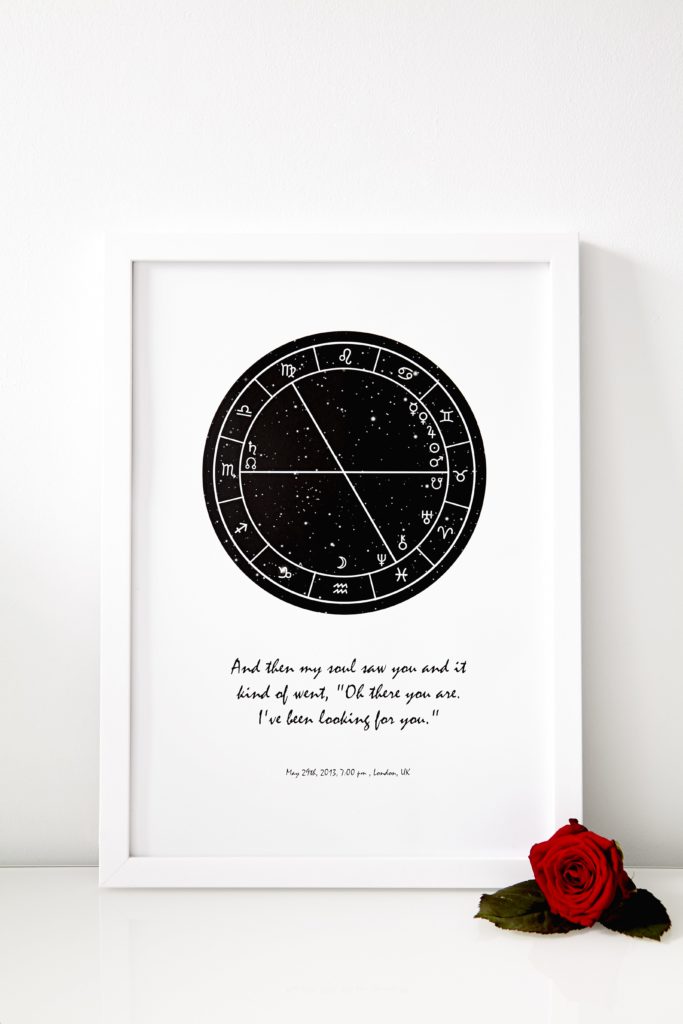 The Le Bureau Quick fire Q&A
Who is your business inspiration?
Anita Roddick. Businesses must be profitable, that's a given, but they also have a duty to be ethical and can be the most effective methods of activism in action.
Early bird or night owl?
Converted early bird. It is possible.
If you could be anywhere in the world right now, where would that be?
Here.
What's your ideal weekend?
Cup of tea in bed. Walk in nature. Read and write all day. Go to yoga. Have an outrageous night out. Lie in the garden all day on Sunday and have someone cook for me.
What's the last song you listened to?
Nick Mulvey, 'I don't want to go home'.
The book that changed you?
This is such a hard question!  There isn't one, there are loads.  'Bridget Jones: The Edge of Reason' made me laugh until I cried when I realised that my life was nothing more than a cliche!
What three luxuries would you take to a desert island?
Body Shop Body Butter, a notebook (and pen) and tea. [ED: That's technically four but I'm allowing it…]
And finally, happiness is…?
When someone finally sends me their correct time of birth.
Find out more at frankinsenseandmirth.co.uk
Back to Blog